The General Court has upheld the decision of the Board of Appeals in rejecting a three-dimensional Community Trade Mark comprising a bottle for mineral water. The Applicant, Adelholzener Alpenquellen GmbH applied for the illustrated mark in relation to goods under Class 32: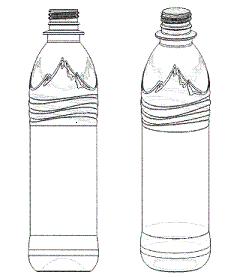 The Office initially rejected the application on the basis that the mark lacked distinctiveness under Article 7(1)(b) of the Community Trade Mark Regulation. The shape, surface texture and logo at the neck of the bottle did not help to distinguish the bottle from those of competing brands.
The shape of the bottle was held to be in line with the type commonly used for mineral water, as were the ribbed lines on the surface of the bottle. The Applicant claimed that its logo, consisting of a mountain ridge, adding distinctiveness to the mark. It was decided that this would not be perceived by consumers to be the logo of the Applicant and that it would instead be seen as merely decorative.
The Board of Appeal's decision was upheld by the General Court.
By Aasim Durrani. Aasim is a Trainee Solicitor and can be contacted on aasim.durrani@lawdit.co.uk